Sourdough Carrot Cake. Try to imagine this, delicious and moist carrot cake slathered in cream cheese frosting. A flavorful dessert for any occasion.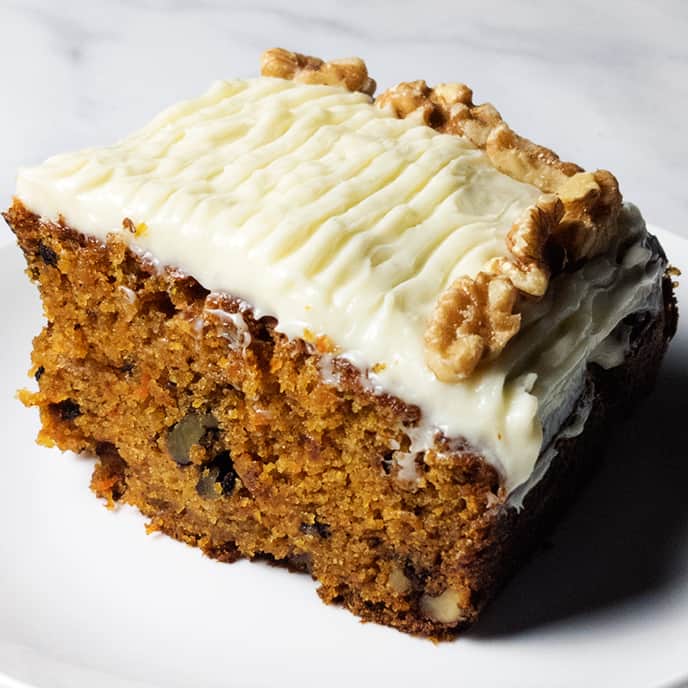 Do you want to enjoy a delicious carrot dessert? Yes, I enjoy the taste of sourdough cake and even the preparation process.
You can prepare this cake whenever you want and enjoy it for a few days.
I keep preparing this dessert throughout the year since I find it healthy. I love to add some extra ingredients to make it more flavorful and delicious.
Do you want to know how to make this cake? If yes, I am here for your help. In the following, I will share the secrets.
Ingredients For Sourdough Carrot Cake
As stated earlier, the process is easy and less time-consuming. However, you will need a few ingredients. Make sure that you have all of them, and then you can start the preparation process.
Here are the ingredients you will need for your cake.
Shredded carrots
Granulated sugar
All-purpose flour
Olive oil
Eggs
Baking sofa
Sourdough discard
Nutmeg
Salt
Milk
How To Make It
In most cake preparations, you will need butter, milk, and egg.
However, you will need some different ingredients for this cake.
You will have to add nutmeg, cloves, and ginger.
Instead of butter, you can add applesauce (unsweetened), olive oil, and sourdough discard. All will give a different flavor and taste to your cake.
Grate the carrot and place the grated carrot between two paper towel sheets. You can keep a plate on paper towels. It will help to squeeze all the liquid from the carrot.
In a stand mixer bowl, combine olive oil, eggs, sugar, sourdough starter, vanilla, and applesauce. Use the medium speed and allow it to mix for two minutes.
You can use a large bowl to whisk cinnamon, ginger, flour, baking soda, salt, nutmeg, and cloves. Also, you will have to store ingredients at room temperature.
Get a medium-sized bowl and mix carrot and other dry ingredients.
Mix all the dry ingredients in the stand mixer.
Pour the batter into the pan and smooth out to make it even.
How To Store Leftover
You can eat your cake within a couple of days. You can store it in an airtight container.
Also, you can cover your cake with plastic wraps and store it at room temperature. However, if you want to keep it for a long time, you can store the leftover in your fridge.
Use an airtight container and store it in your fridge for a week. However, the cake might be a bit hard if you keep it in your fridge.
You can remove the cake from your fridge and keep it at room temperature for half an hour. You will find it fresh and tasty.
OTHER RECIPES YOU'LL LOVE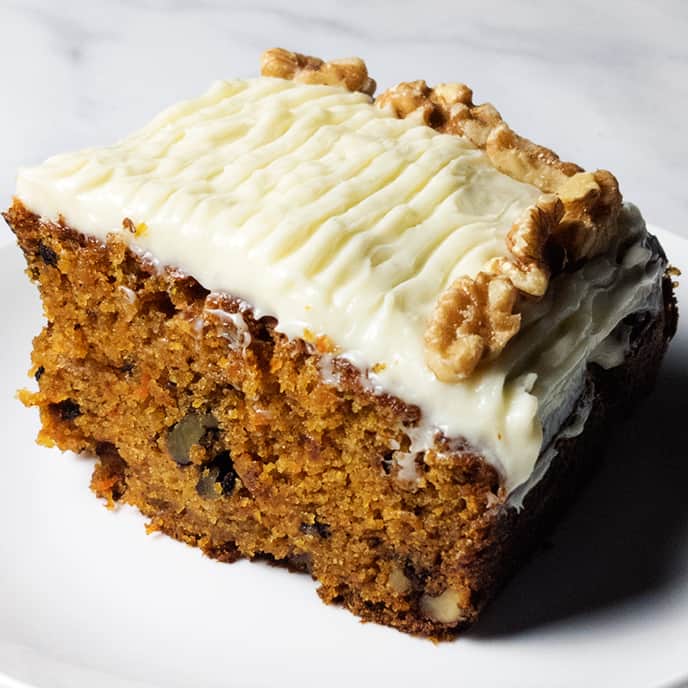 Sourdough Carrot Cake
Delicious sourdough carrot cake
Ingredients
3

cups

shredded carrots

1

cup

sugar

1

cup

olive oil

3

pieces

eggs

1/2

cup

apple sauce

unsweetened

1/2

cup

sourdough discard

2

cups

flour

2

cups

walnut

chopped

1

tsp

vanilla extract

2

tsp

baking soda

2

tsp

ground cinnamon

1/2

tsp

ground ginger

1/4

tsp

ground cloves

1/4

tsp

ground ginger

1/4

tsp

nutmeg

1/4

tsp

salt
Frosting:
1

cup

powdered sugar

16

ounces

cream cheese

1

tbsp

milk

1

tsp

vanilla extract

1

pinch

salt
Instructions
Preheat your oven to 350F

Smear all corners and edges with butter and prepare a 9x13 pan. I love to add parchment paper on top with some added butter. It helps to remove a cake easily.

Use the smallest hole of the box grater to grate carrots.

Squeeze excess liquid following the method mentioned above.

Mix sugar, applesauce, olive oil, eggs, vanilla, and sourdough starter in the stand mixer with medium speed for two minutes. As it will add some bubbles to your batter, you should not avoid this step.

Whisk flour, cinnamon, salt, ginger, baking soda, cinnamon, cloves, and nutmeg.

Take a medium bowl and mix carrot and one tablespoon of dry ingredients mixture. It will mix carrots into the batter evenly.

Now, combine all the dry ingredients in the stand mixer.

Fold in carrots and one cup of walnuts.

Pour the batter into the pan and smooth cut it to spread evenly.

Place pan in the oven and bake for 60 minutes. Check by using a toothpick and piercing in the middle and make sure it comes out clean.
Frosting
Make cream cheese fluffy and soft in the stand mixer. Next, you can add milk, vanilla, powdered sugar, and a pinch of salt to the mixer to make it fluffy on a medium speed.

Once the cake has cooled completely, you can use the frosting. Sprinkle one cup chopped walnut over it.

Enjoy your delicious cake!