Sourdough French Bread. Imagine this, a simple baguette with a golden crust on the outside and a soft middle that has a delicious sourdough taste. This amazingly tasty bread is not hard to make. Serve this with coffee, some butter, or jam and you have yourself and a delightful breakfast.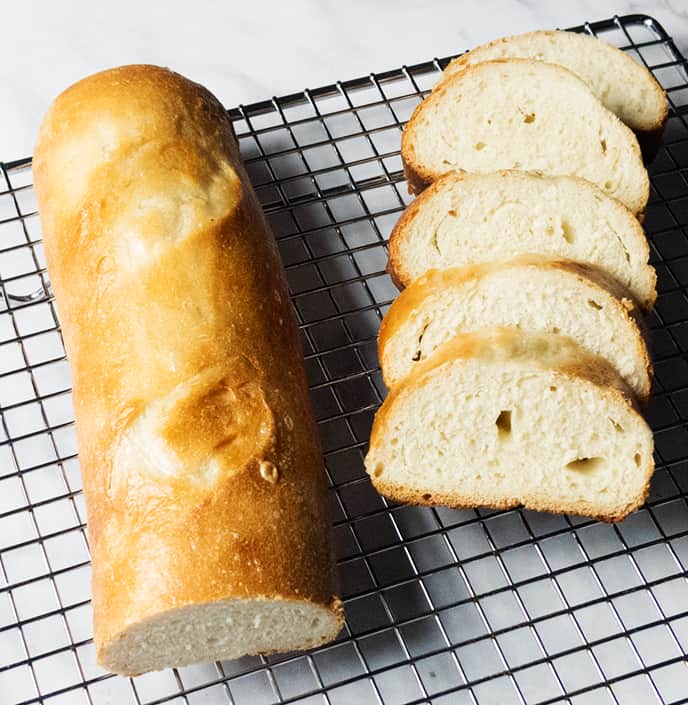 What Makes This Sourdough French Bread So Tasty
There's nothing with a good odor like the smell of fresh-baked bread. And when that bread is sourdough French bread, it's extra special. This recipe fits any occasion, and it's surprisingly easy to make. It's been almost four decades since my grandmother handed it down to me, and I'm approaching 60, and nothing tastes better than sourdough French bread. One of its main features is how basic it is. I still make it for holidays and gatherings with my family, and it always attracts a crowd that loves the taste. So why not give it a try?
The following are some of the main ingredients required to make your sourdough French bread.
Sourdough Starter
Canola oil
Salt
Sugar
All-purpose flour
Dry active yeast
Step By Step Preparation
Prepare yourself for the sourdough French bread baking process after you've gathered all of the required ingredients. Before you begin cooking, it's much easier to combine all ingredients in one spot. So, let's get started!
The first step is to add the yeast to a mixing bowl and warm it in a pan of hot water.
Mix the starter with oil, sugar, salt, and 3 cups of flour. Beat until smooth. Add enough flour to result in a soft dough.
Turn onto a floured surface and knead gently 20-30 times (dough will be somewhat sticky). Lay it in a greased dish turning once to grease the top. Allow rising in a warm place for 1 to 1-1/2 hours, or until doubled. Preheat the oven to 400°. You will need a large, flat surface like a table. Take the dough and punch it down. It is important to flatten it out and divide it into two pieces with an 8 x 12-inch rectangle on each half of the dough. Roll each piece into an 8 x 12-inch rectangle, place seam side down on two greased baking sheets, ensuring you tuck ends under. Cover up and let it rise until doubled, for about 30 minutes.
Put a knife on the bread. Cut slashes across. Bake for 15 minutes.
In a small pot, mix water and cornstarch. Cook it over medium heat until thickened. Brush it on the bread to make it look better. Bake for another 10 minutes until it is lightly browned, but not too much. Remove the bread from the pans to wire racks to cool.
Now, Serve your sourdough French bread with a slice of cheese, fresh fruit, jellies, jams, or as a side to your major dish. You will thank me later. Bon appetite!
The smell of fresh-baked sourdough French bread is enough to make anyone's mouth water. And when that loaf of bread is made from a recipe handed down from your grandmother, it makes the taste even sweeter. This recipe for sourdough french bread will take you back in time and transport you to days where the family was more important than anything else – including work or commitments outside the home. It may be simple, but don't let its simplicity fool you: this hearty dish can win over any crowd! Try it out and find out what we mean by "nothing tastes better than sourdough French bread."
OTHER RECIPES YOU'LL LOVE
Sourdough French Bread
Ingredients
4 1/4

cup

all purpose flour

1 3/4

cup

warm water

1/4

cup

sourdough starter

2

tbsp

sugar

2

tbsp

canola oil

1

pack

dry active yeast

1

tsp

salt
Cornstarch Wash
1 1/2

tsp

cornstarch

1/2

cup

water
Instructions
In a large mixing bowl, add yeast to warm water. Then add the Sourdough Starter, oil, sugar, and salt. Mix well and then add enough flour to create a soft dough.

On a floured surface and gently knead 20-30 times with flour. Turn dough into a greased bowl and cover. Once you see the dough's size has doubled, 1 to 1-1/2 hours later, it is ready to use.

It is time to preheat the oven to 400°. Take the dough and punch it down. On a floured surface turn the dough and divide it in half. Roll each half into a 12×8-inch rectangle. Roll up the dough, starting at the long side and sealing it with your fingers. Place the rolls seam-side down on two greased baking sheets and let them rise until they double in size, about 30 minutes.

Slice the bread in 4 and make shallow diagonal cuts across the top. In a small saucepan, bring water and cornstarch to a boil. Cook and stir until thickened. Brush some on each loaf.

Bake loaves for 15 minutes then brush with remaining cornstarch wash, and bake 5-10 minutes longer. Let loaves cool on wire racks.