Are you looking for a delicious treat that will bring a smile to everyone's faces?
Look no further than this classic, timeless recipe for Vanilla Frosted Donuts!
With just a few simple ingredients and easy-to-follow instructions, you'll be sure to whip up a batch of these melt-in-your-mouth donuts in no time.
So grab your apron and prepare for a sweet treat – it's time to get baking!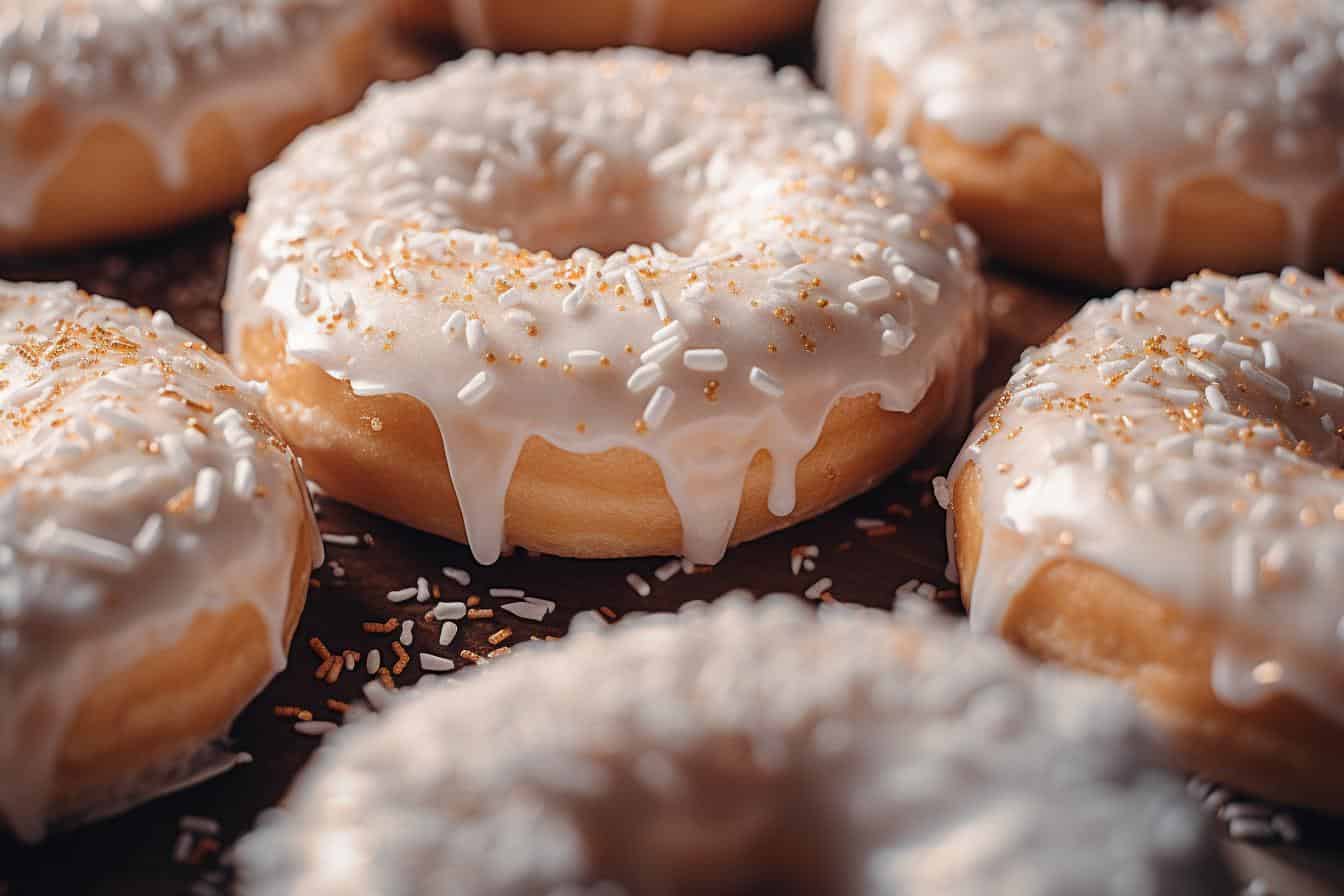 Ingredients Needed
You'll need these ingredients to make delicious vanilla frosted donuts:
harina común
levadura en polvo
an egg
leche
azúcar
butter
extracto puro de vainilla
These ingredients will create a light, fluffy, and subtly sweet donut and a rich, creamy vanilla frosting.
With just a few flavor and texture variations, you can turn these basic ingredients into a variety of delightful donut creations.
Get creative with your donut-making and make all of your friends and family happy with these delicious treats.
Step-by-Step Instructions
To make these delicious treats, follow these step-by-step instructions! You'll be enjoying your vanilla frosted donuts in no time.
Preheat your oven to 350°F.
Mix together the dry ingredients: sugar, flour, baking soda, baking powder, and salt.
In a different bowl, whisk together the wet ingredients: eggs, oil, buttermilk, and vanilla.
Slowly add the wet ingredients to the dry ingredients and mix until everything is well-combined.
On a lightly floured surface, roll the dough out to a thickness of about 1/2 inch and use a donut-shaped cookie cutter to cut out the donuts.
Place the donuts onto a parchment-lined baking sheet and bake for 10 minutes.
Let the donuts cool before frosting with your favorite frosting option, such as chocolate, vanilla, cream cheese, or even a glaze.
Personalice sus donuts
Get creative and customize your donuts with sprinkles, nuts, or other toppings for a unique and delicious treat! With so many icing and topping options, you can make your donuts truly unique.
And don't forget about the classic sprinkles! Feel free to experiment with different colors and shapes to create a one-of-a-kind look.
For a more sophisticated touch, try using chopped nuts, coconut flakes, or mini chocolate chips. You can even add a drizzle of icing for extra sweetness.
No matter what you choose, your donuts are sure to be a hit! So have fun and get creative with your topping options – you won't regret it!
Tips for the Perfect Donuts
With a few simple tips, you can make the perfect donuts every time! Here are three keys to success for a delicious and delectable treat:
Utilize different icing techniques. Experiment with different flavors and textures to create a unique donut experience.
Get creative with topping variations. Sprinkles, nuts, and candy can jazz up your donuts for a special occasion.
Be sure to follow the recipe. Measure and mix ingredients correctly, and don't forget to set a timer!
These tips will help you make the best vanilla frosted donuts ever – so what're you waiting for? Let's get baking!
Serving Ideas
Serving your donuts is the cherry on top of your baking success – make sure to make a presentation that will wow! Get creative and use icing suggestions and toppings ideas to really make your donuts stand out.
For a classic, sprinkle some powdered sugar, or add a drizzle of chocolate sauce. If you're feeling adventurous, top your donuts with colorful sprinkles, or a dusting of crushed nuts. You could also add a dollop of whipped cream or a scoop of ice cream for a truly decadent treat.
Just make sure to keep safety in mind when presenting your donuts – no one wants a nasty surprise!
You've just created a delicious batch of donuts that are better than any store-bought ones! With the perfect combination of sweet vanilla frosting and fluffy dough, these treats are like a dream come true.
So what're you waiting for? Get your donut-making skills rolling and enjoy the delicious rewards!
Donuts escarchados de vainilla
¿Te apetece un capricho delicioso? Descubre la receta definitiva de rosquillas glaseadas de vainilla y satisface a los más golosos. Fácil y deliciosa, ¡pruébala hoy mismo!
Ingredientes
Para los Donuts:
2

tazas

harina común

2

cucharadita

levadura en polvo

1/2

taza

azúcar granulado

1/2

cucharadita

sal

1

huevo

3/4

taza

leche

2

cucharada

mantequilla sin sal

fundido

1

cucharadita

extracto puro de vainilla
Para el glaseado de vainilla:
2

tazas

azúcar en polvo

3-4

cucharada

leche

1

cucharadita

extracto puro de vainilla
Elaboración paso a paso
Hacer los donuts
Precaliente el horno a 175°C (350°F) y forre una bandeja para hornear con papel pergamino.

En un bol, mezclar los ingredientes secos: azúcar, harina, levadura en polvo y sal. Mezclar bien y reservar.

En otro bol, bata los ingredientes húmedos: huevo, leche, mantequilla derretida y extracto de vainilla pura hasta que estén bien mezclados.

Verter lentamente la mezcla húmeda en la mezcla seca, removiendo hasta que se forme una masa blanda.

En una superficie ligeramente enharinada, extienda la masa hasta que tenga un grosor aproximado de 1/2 pulgada.

Utiliza un cortapastas con forma de donut para cortar los donuts y pásalos a la bandeja para hornear preparada, dejando un poco de espacio entre cada donut.

Hornear en el horno precalentado durante aproximadamente 10 minutos o hasta que los donuts estén ligeramente dorados.
Preparación del glaseado de vainilla
Mientras los donuts se enfrían, preparar el glaseado de vainilla. En un bol, mezcla el azúcar en polvo, la leche y el extracto de vainilla. Mezcle hasta obtener una consistencia suave y fácil de verter. Ajustar la leche o el azúcar según sea necesario para obtener el espesor deseado.
Decorar los donuts
Una vez que los donuts se hayan enfriado durante unos 20 minutos, sumerge la parte superior de cada donut en el glaseado de vainilla, dejando escurrir el exceso.

Coloque los donuts glaseados sobre una rejilla para que se asienten durante unos 10 minutos.
Personalice sus donuts
Mientras el glaseado esté todavía pegajoso, ponte creativo y personaliza tus donuts con aderezos como virutas, frutos secos triturados, trocitos de chocolate o un chorrito de glaseado. ¡Deja volar tu imaginación!